Preschools & childcare market is booming in India owing to increasing interest among parents for quality early education for their children, as well as due to emerging franchise model to scale up operations among preschool chain owners. Owing to these factors, Indian preschool market is expected to flourish in the coming years.
A US-based company that we as a team worked for had a very rare online presence, zero social media marketing campaigns, not so good demographic research, lack of viral digital marketing initiatives. Their lead advertisement on facebook was zero and the Facebook handle only had post boosting and required extensive social media marketing campaigns. Their website needed a revised user interface design to retain the viewers for long. Our task was to generate leads of parents and ensure that, HNIs (High Net worth Individuals) buy the newly available franchises across India. Within the course of seven months, we were able to achieve the desired results with the help of social media and search engine marketing, revised user interface design, and comprehensive online marketing campaigns.
We took up the task in October 2018 and the results till April 2019 are as follows:
Online marketing with a focus on social media marketing was done within 5-6 miles of the pre-school center based on the following demographics:
The age group of customers: 25years – 44 years.
We targetted mostly females on FB and Google advertisements
Google AdWord gave us a pretty good income targeting where we targetted a household income of the top 40%
English/ Hindi/ Kannada speaking people were targetted on facebook and google advertisement
We were able to achieve the following results at the end of extensive social media marketing campaigns run along with a revised UI design
Website rank (India) – Improved the local website ranking (Alexa Ranking) of the website in October 2018 –2,77,375 to April 2019 – 63,000. This indicates the steep increase in the number and quality of website visitors.
Bounce Rate, an online marketing term used in web traffic analysis. It represents the percentage of visitors who enter the website and then leave instead of continuing to view other pages within the same website. The rate showcased remarkable improvement. The bounce rate improved from 75% to 53%, indicating that visitors were spending more time on the website and browsing through all pages.
A backlink is an incoming hyperlink from one webpage to another web site. Google takes into account the number and quality of backlinks while ranking a website for a particular keyword. The number of backlinks increased from 17 to 350 which clearly shows how well the webpage has been recognized and promoted. All the backlinks created were organic.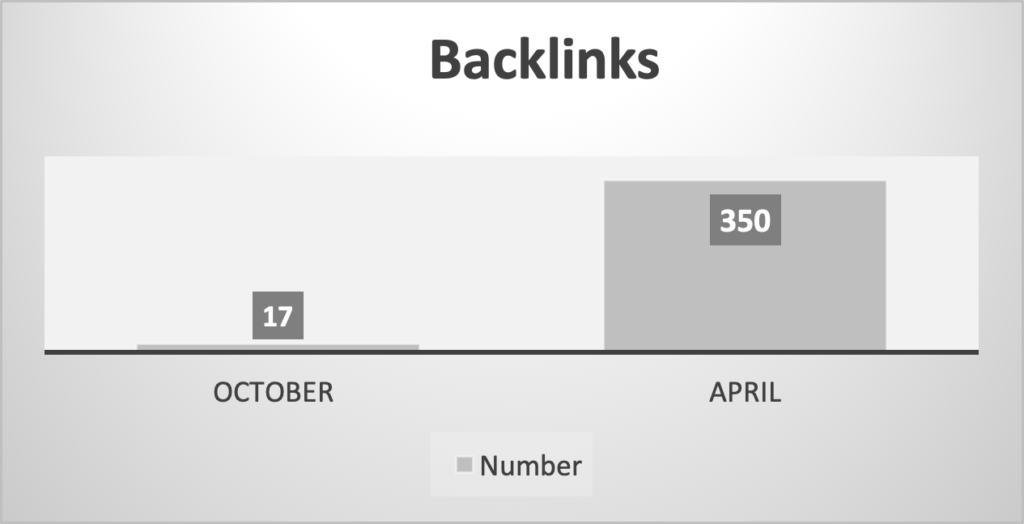 Organic users or non- paid users increased from 250 users per month to 800 users per month, owing to targetted content creation and subsequent sharing on social media, answering the most popular to most basic questions of parents looking to enroll their children in playschool and investors looking to buy a new pre-school franchise.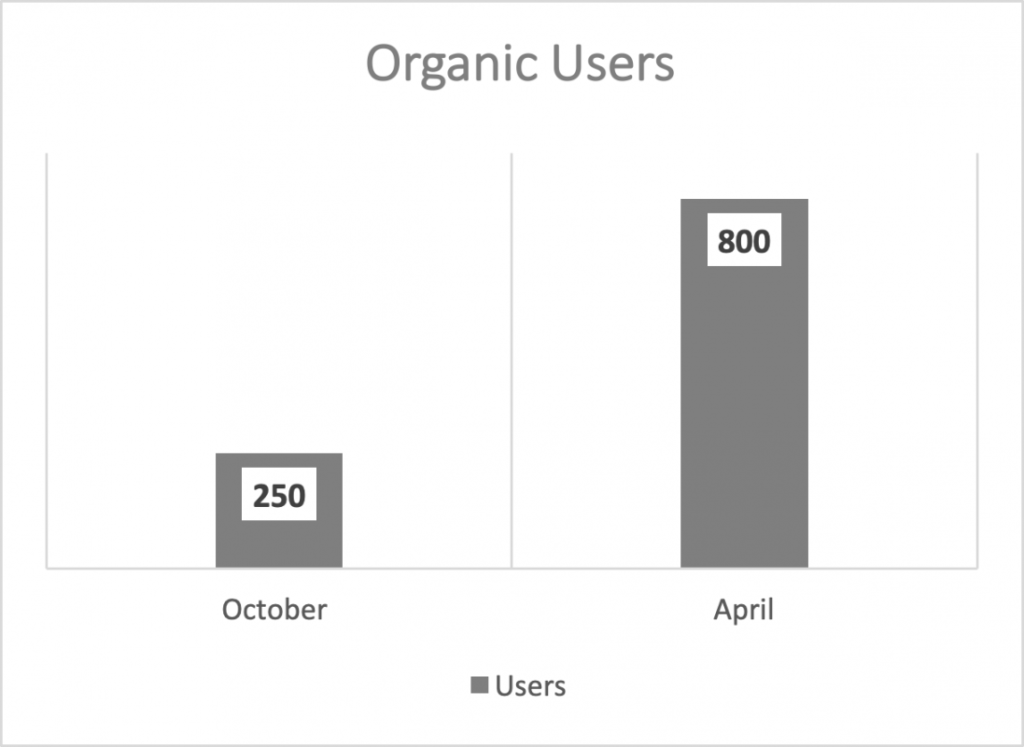 Search Engine Optimization(SEO): SEO is a process of increasing the quality and quantity of website traffic, increasing the visibility of the webpage. SEO plays an important role in online marketing as it makes sure that in future you can drive relevant traffic to the website without spending a humongous amount on the paid advertisement while doing social media or search engine marketing. The results were noteworthy, the SEO score of the website jumped from 65 to 83. The efforts included creating optimized SEO friendly content, optimizing the title and description of pages, optimizing the page speed and rectifying any crawl errors.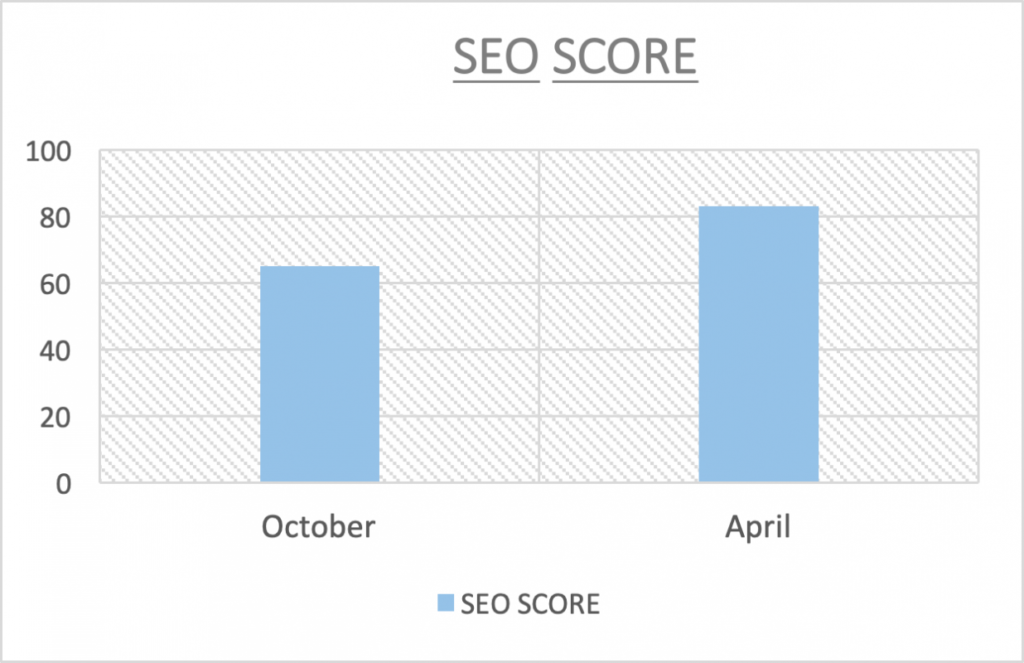 Keyword ranking is a metric that measures your search engine ranking for targeted keywords and analyses change in that ranking over time. The keyword being "Kids classes near me." The ranking improved from 10th page to 1st page which is a remarkable achievement in 7 months.
CTR (Click Through Rate) the percentage of people who click on your ad after seeing it. Click-through rate was recorded as 10% which is very good.
CPC (Cost Per Click) is the actual price one pays for each click in pay per click campaign. Our rate was recorded as Rs. 14 whereas usually for such industry it ranges within Rs 18- Rs19. Low CPC is a good sign as the cost incurred on advertising is lower.
The conversion ratio was 25% whereas normally it is recorded between 10% – 15%. The conversion ratio, in this case, is the percentage of website visitors that registered for the demo class. A higher Conversion Ratio is indicative of successful online marketing and web design.
Besides the above social media and online marketing tools, we used other methods for better results. Google Ads is an online marketing platform developed by Google wherein advertisers pay to display brief advertisements, services offerings, product listing, etc. It is also used for Re-marketing, a tactic that involves showing ads to people who've visited your website or used your mobile app. Lead Generation or the action of identifying and cultivating potential customers for a business's product services were generated across 7 centers for parents. Total being 800 leads per month which comprise organic and inorganic users. There were 150 leads of HNIs (High Net-worth Individual) who showed interest in acquiring a new franchise in 8 different cities of India generated within 4 months.
Looking for digital marketing, social media marketing, website development, or revised UI design for your business, then give a call on +91-7676375017 or drop an email to design@brandshark.in