Overview
Digital Marketing helps brands to focus on targeted audiences enabling them to bring in high revenue with little investment. The scope of digital marketing is very vast and varied. As per the statistics, around 60% of the population of the world uses the internet, and this number rose to 20% in the past two years due to the global surge of the pandemic with many businesses going online. Hence it is very clear to say that digital marketing is the fastest growing form of marketing in terms of visibility, reach, and measurability of its results.
Without a proper and clear understanding of digital marketing strategy, it's like hitting an arrow in the dark. Every business needs a proper digital marketing strategy to move in the right direction. This article will help you understand the true importance of digital marketing.

---
Why Digitial Marketing is Important?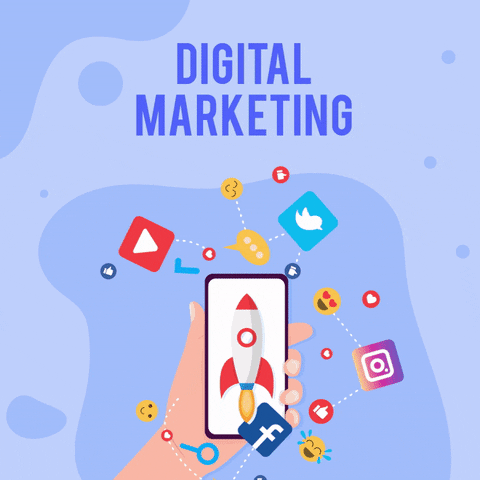 Cost-effective
Digital marketing is a cost-effective strategy as it requires very little to low investments. This is great for small businesses to grow online. Besides, many digital marketing tools provide basic features free of cost, thus, it is up to businesses to make the best use of them.
---
High Reach
With the help of digital marketing, your business can get a greater reach to a wider audience. Hence you can take orders for your products and services from all over the world and your business will not be limited to only one area.
---
Brand Awareness
One of the most effective and important effects of digital marketing on any kind of business is brand exposure and high awareness. If a customer does not have awareness of your brand, then you'll not be able to reach a wider audience and, no matter how hard you try, you'll not be able to get to more customers. To tackle this, brand awareness is extremely important for your business and it can be easily achieved with the help of digital marketing strategies. With the help of PPC (or Pay Per Click), SEO services, and other kinds of promotion tactics, you can easily attract many customers to your business's website.
---
Brand Image
A company's image is everything. The right social media marketing campaign strategies can make the best company's brand image, while, if not done effectively, it can also break it. Through digital marketing, effective campaigns can be designed and it can help to increase your brand image.
---
Measurable Results
One of the most important things about digital marketing in any business is that it makes your business stand out and helps to achieve measurable goals and results easily. With the help of the best digital marketing strategies and SEO services, companies can analyze the effectiveness of the campaigns and can formulate and design the strategies accordingly. Today, with the help of digital marketing, the importance of analyzing data has a very significant role in the success of your campaigns.
---
Massive Return On Investment
You will be shocked to know that the investments in digital media are so much less than the traditional media and the return on investments is also higher in digital media marketing. You can even run advertisements on any particular digital media platform for as low as $1. That is the power of Digital Marketing.
Read about: Digital marketing trends in 2022
---
Conclusion
The importance of digital marketing cannot be understated and these reasons proved just why. The optimal solution-based approach will be to go for the best creative digital marketing agency which will help you set up a solid strategy and boost your growth. This will help your business to grow effectively and will help you to increase your business sales sporadically.
Reference: Iide
Giphy: whitepaper