One of the biggest challenges in building an online store is to find a great-looking theme. Shopify provides a lot of free themes to set up a business. But if you're looking for something different and something that'll help you stand apart, we've got you covered! Here you will find themes for all types of businesses, ranging from entertainment, cosmetics, fashion, clothing, sports, art, and more. Find your best theme to get your business off the ground.
Debut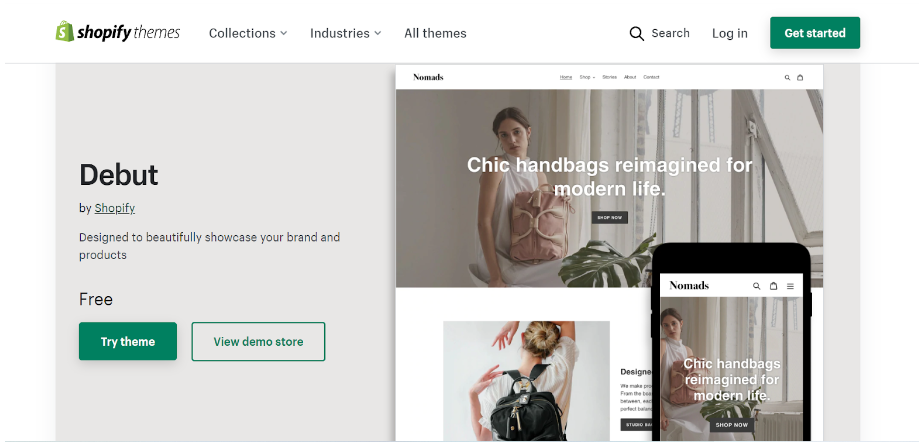 Great theme suitable for store types that sell products related to fashion, clothing, entertainment, cosmetics, art, and more, it provides a lot of flexibility in curating your Shopify website the way you want with their web designing services. The engaging drag and drop feature allows you to set up your store quickly, moreover, the theme already looks good, which saves you from the hassle of customizing it from the ground up.
Debut is an ideal store offering:
Slideshow: showcasing multiple brands or product images
Predictive search: Display live search results to your shoppers
Home page video: feature your story in video mode.
Category: Accessories, Fashion
Sense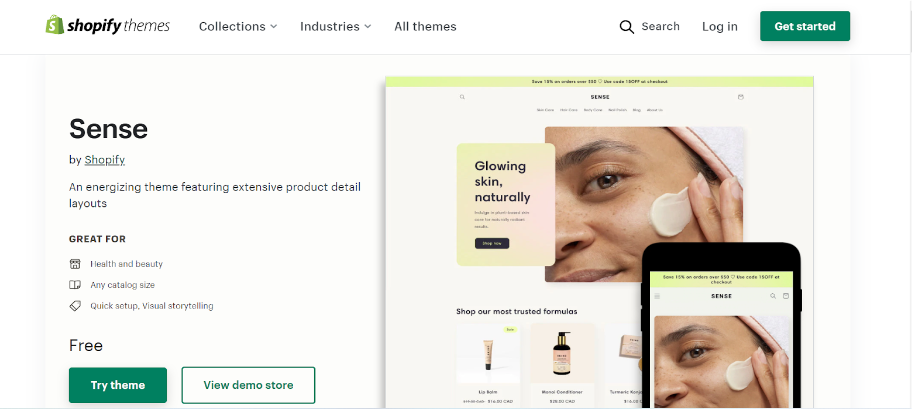 This free Shopify theme is energizing, easy to use, and customizable. With its fresh and appealing designs, this theme is great for health and beauty stores. The drag and drop feature allows the flexibility to instantly set up your store, make changes when necessary, and add products with ease. The theme is excellent for businesses willing to sell health and beauty products.
This theme offers fresh and bright design, enhanced product understanding, and advanced customization options. The core features are:
Well-designed blocks for videos, photos, quotes, and more to showcase your product.
Fast and advanced
Quick buy and cart notes options
Dedicated pages for blogs, homepage, about, FAQ, and more
Mega Menus, enhanced search, collection navigation, and more.
Category: Health & Beauty
Studio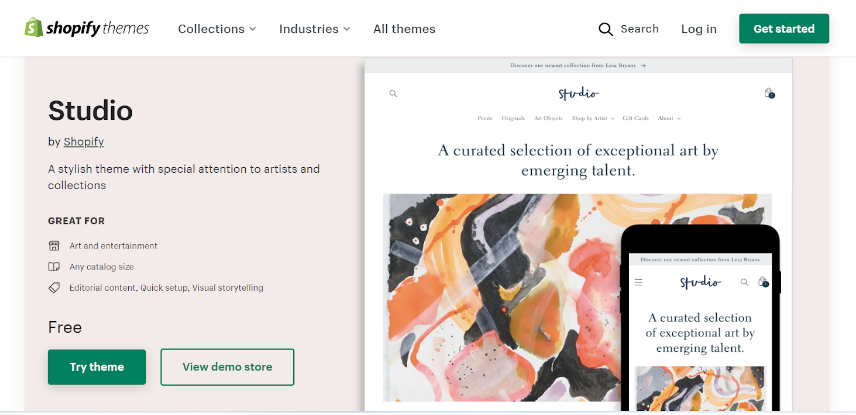 A fully packed theme best for stores selling products related to art and entertainment. The theme offers colorful accents to showcase your products with stylish typography. Attract collectors with collection-based navigation, creator filters, featured collections for galleries and new arrivals, and artist profiles. The theme provides flexible design and customization settings to adjust the layout and styling of your store and match your brand vision.
Flexible and interactive features such as
Drag-and-drop sections and blocks
Well-designed blocks for images, products, videos, quotes, and more.
Cart notes and in-store pickups
Enhanced search, mega menu, sticky header
High-resolution images, product videos, slideshow, and more
makes work easy, allowing you to update your store to match your vision.
Category: Art & Entertainment
Thalia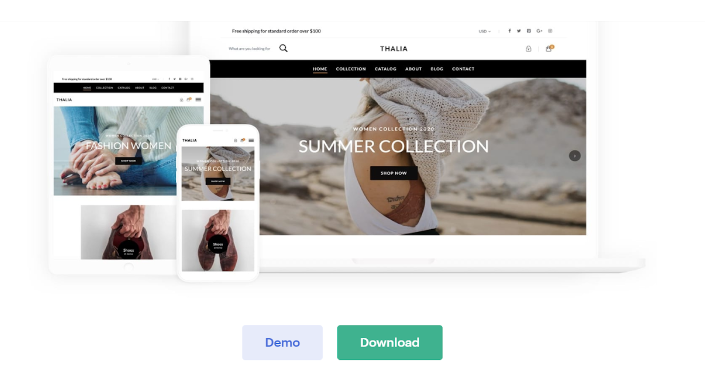 This is a free Shopify theme that comes with a flexible design, best suited for stores willing to sell fashion products. The theme will provide a clean minimalist look to your Shopify store. Packed with enhanced features that include
Responsive slideshow: optimized for mobile and desktop, you can show multiple images to showcase your product and meet the agenda
Advanced collection filters: an interesting feature that allows shoppers to filter products based on choices
Slide-out cart for the ease of adding products to the cart
Product swatches to display product variants in style.
Category: Fashion
Debutify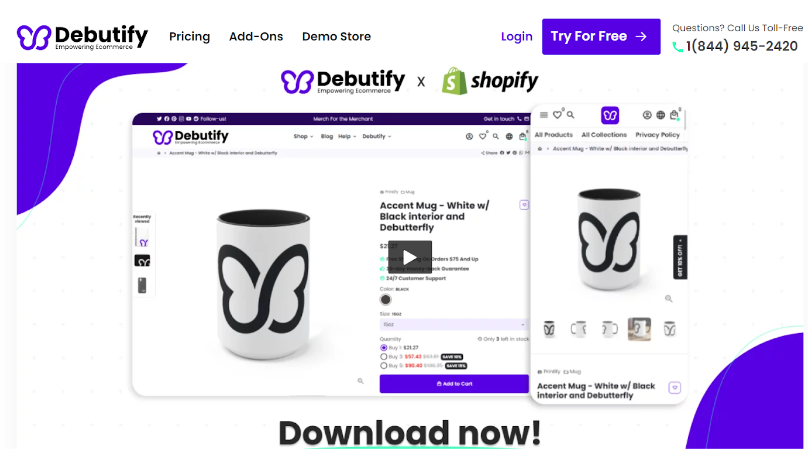 A multipurpose free Shopify theme, with easy-to-use features serving customers with all diverse business needs. The theme is suitable for all types of stores may it be fashion, clothing, cosmetics, sports, or entertainment. With its quick and fast services, you are set to go and set up a store that serves all business needs.
The wide range of features provides you with the flexibility to do business your way. The features include cart functionality features, a customizable slideshow for both mobile and desktop, and a customizable header for interactive navigation in your store, chatbox, and more.
Category: General
Takeaway
So, these were the top five free Shopify themes of the many themes provided by Shopify, all the themes are best suited for respective stores. A theme that fulfills the features and serves the domain of the business is the most suitable theme that could be chosen. A good theme not only attracts customers but also intelligently guides them through the store to make them buy a product.
References:1. themes.shopify.com
2. dessign.net
Image by 200 Degrees from Pixabay
Looking for expert Shopify developers then look no further. Brandshark is a leading Shopify development company with more then 5 years of experience in Shopify development