Overview
Websites are becoming the core of online businesses. From companies interacting with their clients through CRMs to retailers selling through an eCommerce store, everything is built around websites keeping in mind the need of users. According to research, 80% of people resist visiting a website where they had a bad user experience. They want quick and fast services, and having a slow website is not recommended. Most sites have a loading speed of 8 to 11 seconds, and UX impacts deeply on a website's loading time. UX is the core for building a website that fulfills all user needs. This article will highlight the importance of the user experience of the website, and provide you with the insights necessary for building a successful website.
---
What is User experience?
Don Norman coined the term "User Experience" in the 1990s and according to him – "User experience encompasses all aspects of the end-users interaction with the company, its services, and its products.". UX involves a systematic procedure of improving the overall experience of the user when they interact with a product or website and answers how to provide maximum customer satisfaction. The main purpose of UX is to improve the experience of using a digital product, customer satisfaction, functionality, and usability, and also impart an impactful impression.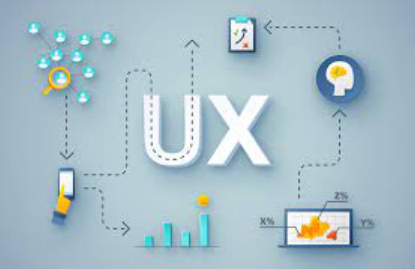 ---
Why Does User Experience Matter for Your Website?
Web design plays an important role in user experience. Here are the points that specify the importance of the user experience of a website.
User Experience is Important for Business
User experience is a very crucial aspect that is generally taken too lightly by many businesses. It becomes a matter of survival for business – if it has a good user experience then there's a surety to see a rise in customer conversion, lead generation, brand popularity, and revenue generation.
According to Forrester's research, companies that invested in UX design have enjoyed a 9,900% return on their investment. On average, for every one dollar invested in UX, the ROI is $100. Moreover, they also said that a better UI can raise a website's conversion rate by 200% and a well-designed UX can further increase it up to 400%.
---
UX is an Ongoing Process
User experience designing is not a one-time task, it's a series of processes that should be maintained to keep everything on track. Starting with good UX practices for your website lays the foundation for a bright and fortunate future. The initial stages of website development have to be planned with the right UX design. According to a study, 41% of the audience want a simple design, while 59% want something stunningly different. UX designing requires a professional point of view, so, a partnership with a professional UX design agency would be better for future enhancements.
---
UX design improves SEO rankings
Today, search engines – especially Google – not only focus on keywords as a factor in ranking a website but also take account of user behavior. User behavior refers to how a user responds to any content on a website. In short, the bounce rate of a website plays an important role in SEO. Generally, websites with lower bounce rates rank higher on the search page. It is one of the most important aspects that contribute to the success of a website. Well-designed user experience means quick page load speed, mobile responsiveness, easy navigation, and a user-friendly URL structure, which will reduce bounce rates, and improve rankings.
---
A Good UX Design ensures the Credibility of Your Website and Builds trust
Trust is the true winner when it comes to a website. How to make people trust you? According to a study, people form 75% of their judgments on a website's credibility based on its aesthetics.
An aesthetic UX design imparts an excellent impression by reducing frustration and friction for users to your site. The easier it is for users to use your website, the more chances are there to build trust. And an overall positive experience will increase the likelihood of converting mere leads into customers.
---
Takeaway
The user experience of a website consists of many practices that UX designers follow to achieve the objective of delivering the best experience that encompasses all expectations. UX design is essential for the success of your product and business. UX designers keep the user's needs at the core while designing for UX. Hiring a professional UX design agency for your website will keep you ahead of your competitors.
---
Reference links:
Adobe, HubSpot, Forbes, https://www.popwebdesign.net/popart_blog/pdf/Effect_of_aesthetics_on_web_credibility.pdf
Image from Canva