Overview
Building an eCommerce website is a great step toward expanding your business and reaching new horizons. While building an eCommerce website special attention must be given to the look and feel of your website. This is achieved by choosing the theme that suits your business type, standards, and policies.
This article gives you a list of free eCommerce website templates to help build your website. The templates mentioned here are for Shopify, WooCommerce, Squarespace, and BigCommerce, which are platforms that'll help you build a customized eCommerce website for your business.
---
Five free eCommerce website templates
Simple – By Shopify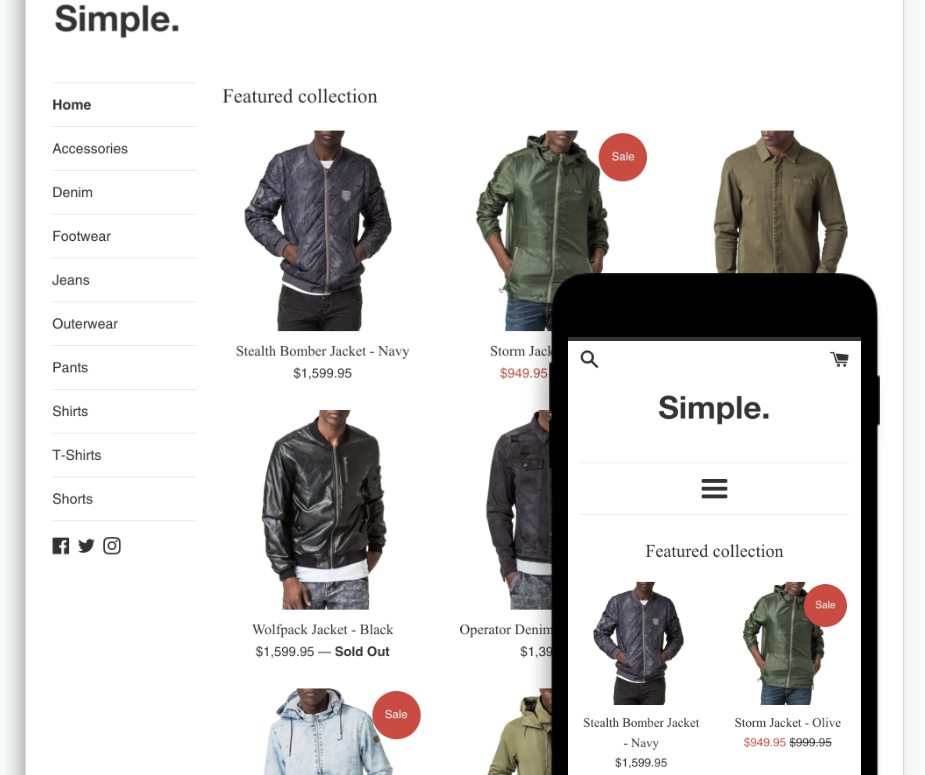 Simple is a clean and minimalist theme by Shopify that is easy to set up and provides all the basic functionalities you need to get your eCommerce store up and running. With a tidy and elegant storefront design, you can use this theme to sell a large collection of items.
Simple offers a significant area for product image display with the hover effect on product images, providing a clear and enlarged view of products to your customers.
Features:
Offers sidebar menu bar on the homepage for easy navigation through your site.
Product Image Zoom as hover effect, for a clearer view of products.
Offers Image Animation – brand and product images animate into the page – offering sleek transition effects.
Product Recommendations to showcase recommended products to your customers.
Category: Fashion, clothing, cosmetics.
---
Online Shop- By WooCommerce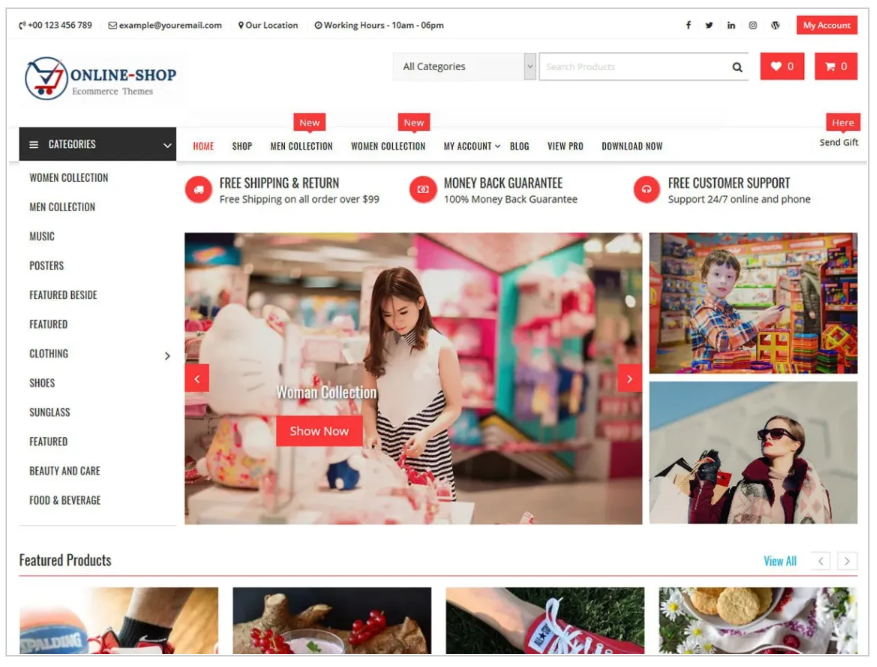 A powerful, strong, and all-in-one online theme for your online store, Online Shop is packed with advanced customizable features and a beautiful design to top it off. With advanced customizable widgets, it offers vast possibilities of design and layout options that will help you leverage your online store. This theme is fully compatible with WooCommerce and you will have limitless possibilities to build your unique and powerful online store.
Features:
Advanced header and footer options
Variety of custom widgets for managing homepage and sidebar.
Lots of options to customize colors, background images, sidebar areas, and sliders.
Responsive and compatible with all browsers.
Category: General
---
Alameda – By Squarespace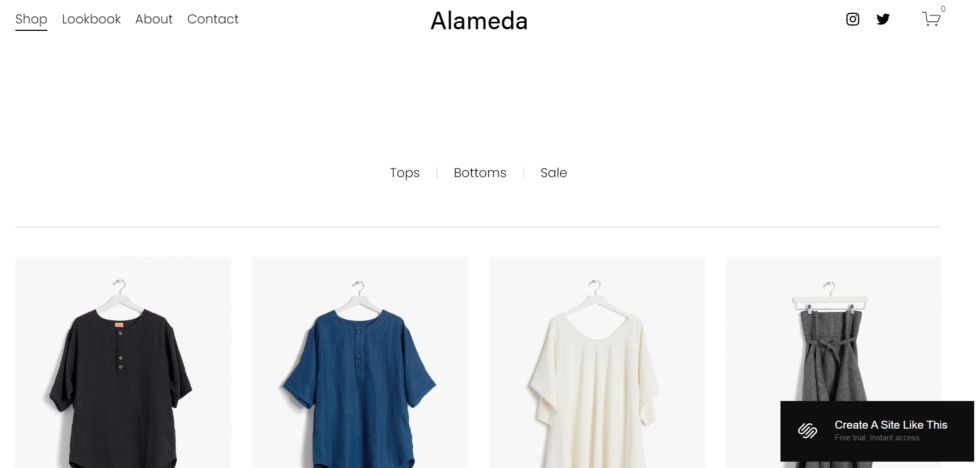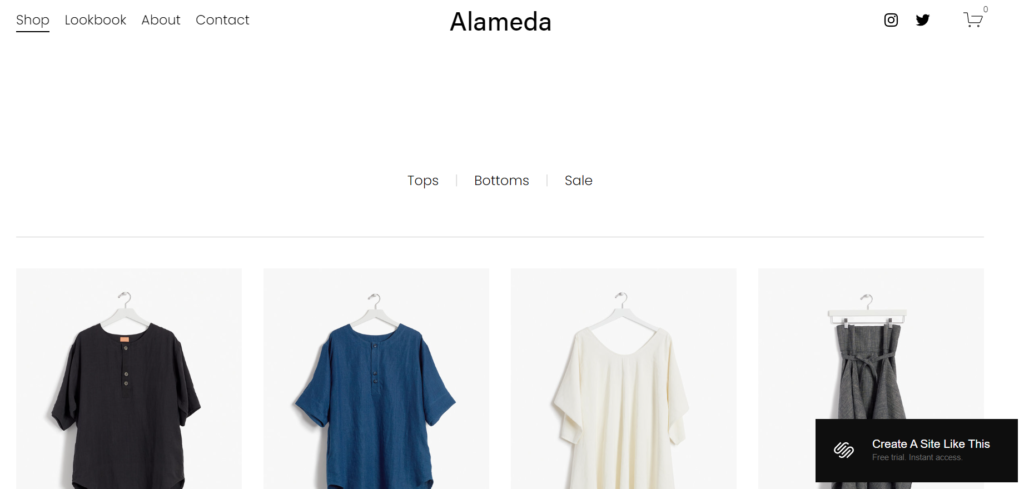 Alameda is a clean and minimalist Squarespace template for Squarespace 7.1. Alameda is envisioned for online stores and other forms of eCommerce and is one of the best templates for artists looking to sell their work. The homepage offers plenty of space to display a massive amount of artwork. It further comes in integration with social media marketing platforms like Facebook, Twitter, and Instagram to share your work with a large audience.
Features:
Social media Integration
Dynamic pricing option
Allows to display products in multiple sizes and colors
Category: Fashion influencer, artwork.
---
Cornerstone Light – By BigCommerce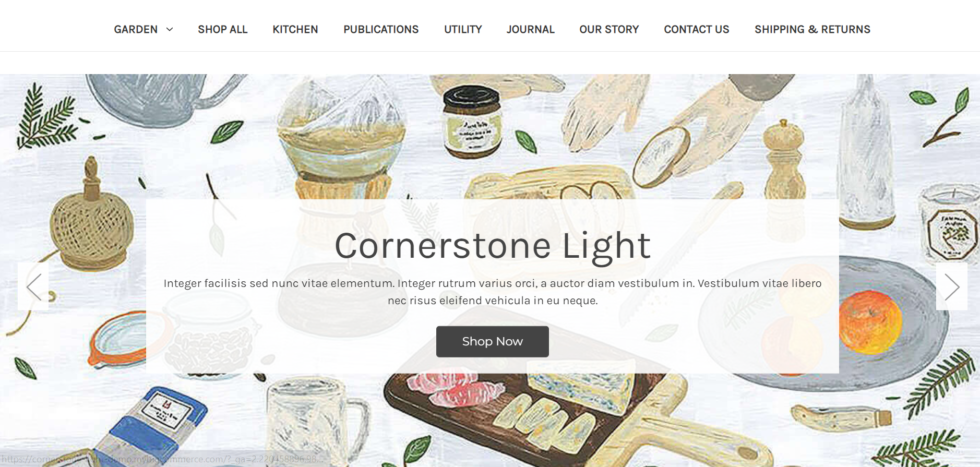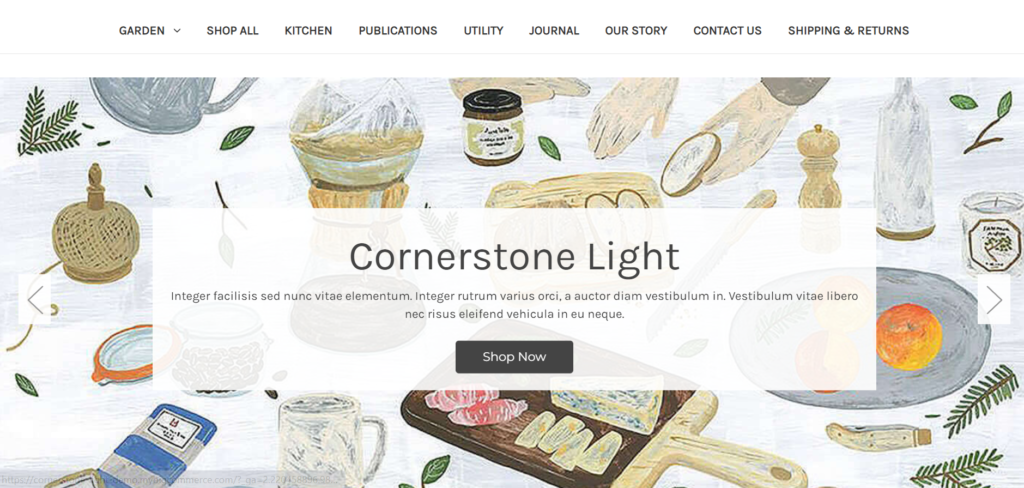 Cornerstone light is a default theme on the BigCommerce platform and is ideal for a wide range of products and brands. With its fully responsive, simple, and ready design, you can add your products pretty easily. The centerpiece of this theme is the homepage carousel, which allows you to display multiple images like limited-time sales, loyalty programs, etc, on the most noticeable part of your site. With the in-built theme editors, you can quickly and easily edit the fonts and colors of a page
The theme is available in three beautiful styles – Light, Bold, and Warm. Each serves its purpose to build an interactive online store.
Features:
Fully Responsive to all devices and browsers.
Persistent cart, so that items remain there after the next session when the customer leaves and revisits your store.
One-Page Checkout
Categories: Books, restaurants, art, health remedies.
---
Fortune Minimal – By BigCommerce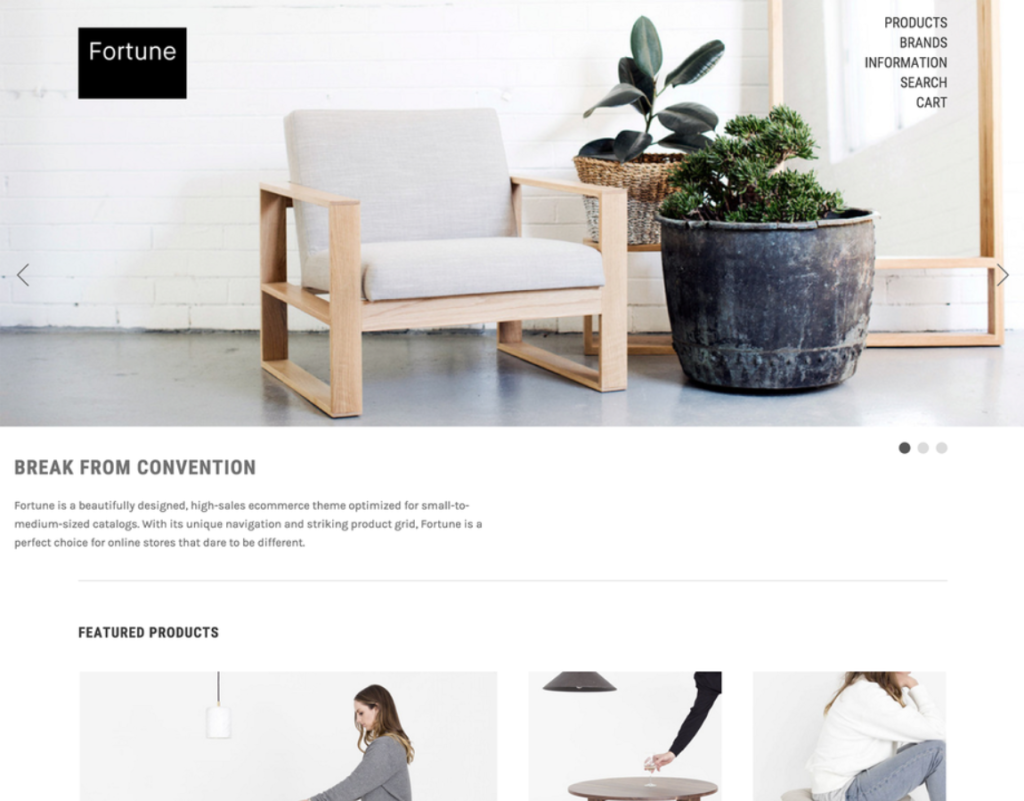 Fortune is a stand-out modern theme for cutting-edge online stores and eCommerce websites. The striking and unique hero area puts a product or brand imagery on full display, immediately catching the attention of the customers visiting your site. Fortune, with its unique navigation and striking product grid, is a perfect choice for those who dare to be different.
This theme comes in four beautifully striking designs – Fortune Minimal, Fortune Bright, Fortune Contrast, and Fortune Highlight.
Features:
Fully Responsive
Frontpage Slideshow
Product Videos
Google AMP
Persistent Cart
Categories: Furniture, plastic artwork, crockery, cosmetics, or personal designed products.
---
Conclusion
An eCommerce theme is not only chosen based on the appearance but also on the personality of the store you want to build. Whether you are on Shopify, Squarespace, or any other platform, there are plenty of free themes and templates available for you to choose from. An important point to keep in mind while selecting a theme is that your eCommerce website is easily accessible to people, is minimalist in style, and that your products stand out from the competition.