NFTs are unique, non-fungible items that exist on the blockchain. An NFT is a digital form of asset that can be anything from digital art to a digital character.
An NFT marketplace is a platform for buying and selling NFTs or Non-fungible tokens. NFTs are typically held in Ethereum Blockchains, although other Blockchains also support them. Each block contains special electronic information that ensures the authenticity of the item. As the popularity of NFTs keeps on growing, so has the search for the best NFT marketplaces to buy and sell them.
Here are some of the best and most well-rated marketplaces where both creators and collectors buy and sell NFTs.
OpenSea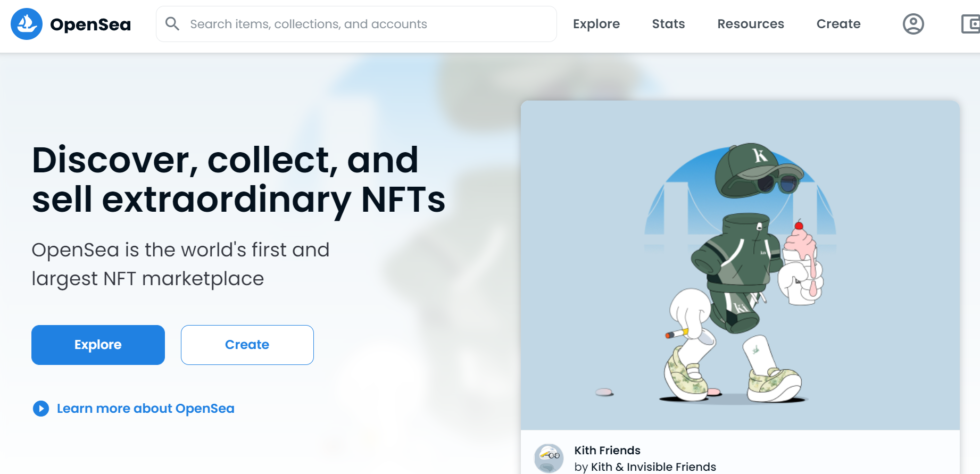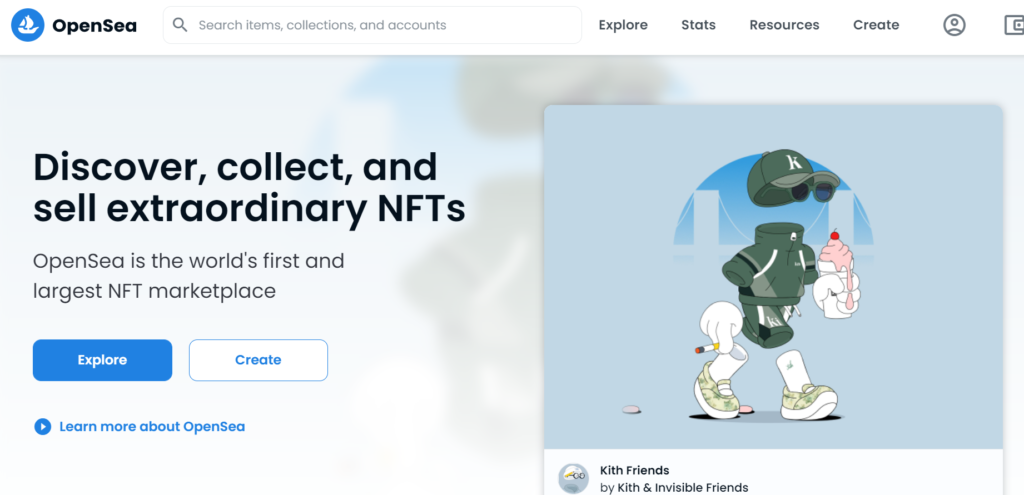 Describing itself as the largest marketplace for buying and selling NFTs, OpenSea has gained popularity since its launch in 2017. Although initially, it was a market to exchange CryptoKitties, it now allows the exchange of all sorts of NFTs including art, trading cards, music, photography, and virtual worlds.
In OpenSea, you can instantly create an account, that too for free, and start trading NFTs. It allows users to create their own NFTs using their item minting tool. You can buy and sell with Ethereum, Solana, USDC, and other cryptos as well.
Transaction fees are there only when you're trading using Ethereum which is 2.5% per transaction. To avoid transaction fees you can buy and sell with Polygon.
Overall, OpenSea is an all-in-one platform for absolute beginners looking to get started with a straightforward marketplace and who need as many options for NFTs.
Pros:
Hight level of security.
Only marketplace with a mobile app.
Biggest collection of NFT styles.
Cons:
Payment through cryptocurrency only.
High Minting fees for NFTs.
Rarible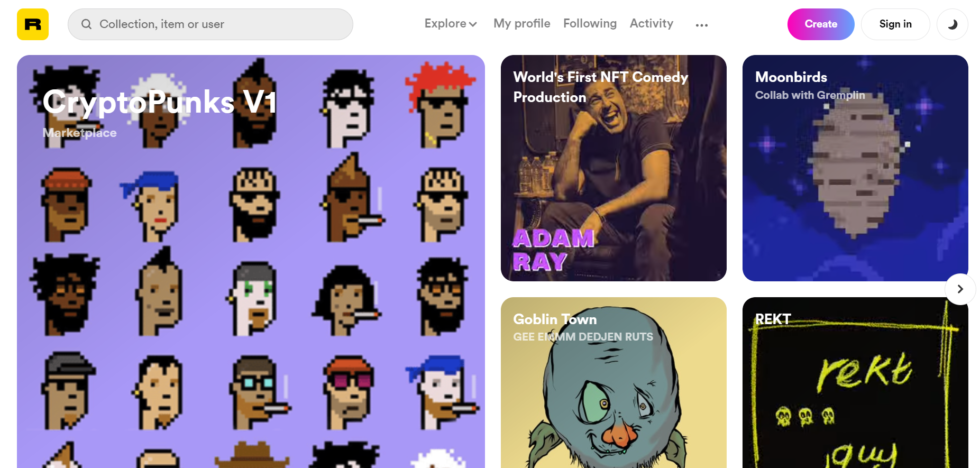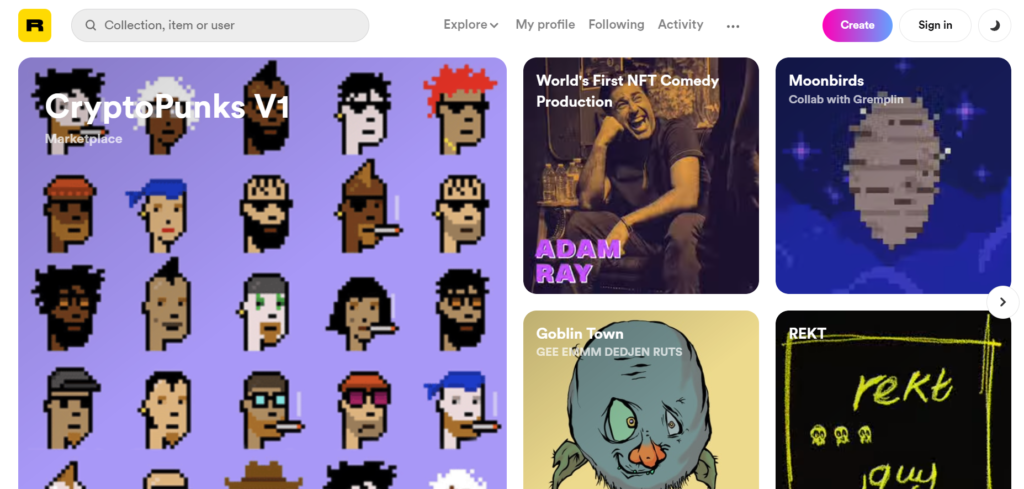 Rarible is a community-owned decentralized NFT marketplace. The platform mainly focuses on digital art, music albums, video assets, movies, or book assets. You can buy or sell on Rarible with Ethereum, Flow, and Tezos.
It charges a 2.5% transaction fee on both the buyer side and seller side including any gas fee on Ethereum Blockchain. One other thing that sets it apart is that you can market NFTs using government-issued currencies, i.e, using a credit card.
As a community-owned marketplace, Rarible distributes its own RARI token. The token holders get an opportunity to participate and vote on the company's decisions. It is a great platform if you are looking to access a large network with solid connections.
Pros:
All payment options are available; Credit card, Debit card, or ETH can be used.
RARI token holders can connect with the Rarible community.
Royalty to the artist when the NFT is sold further.
Cons:
No Deposits and Withdrawals without an ETH crypto wallet.
Creating a wallet with Rarible is a painstaking process.
Binance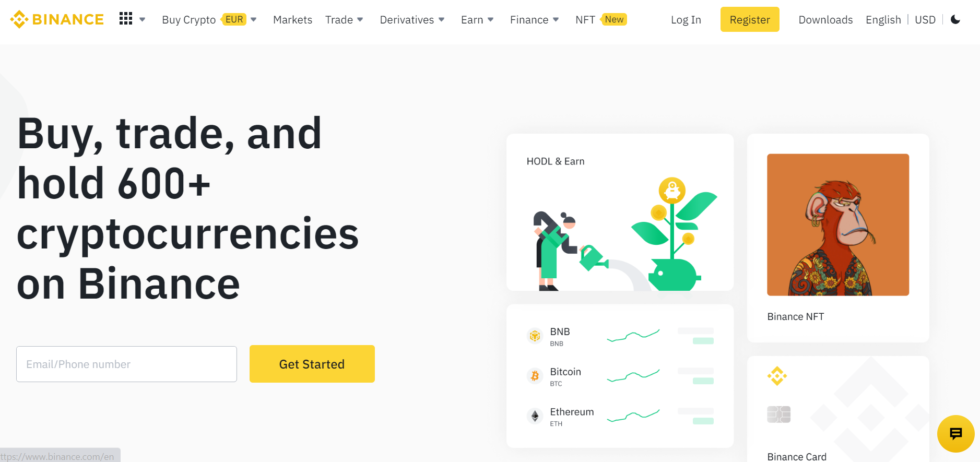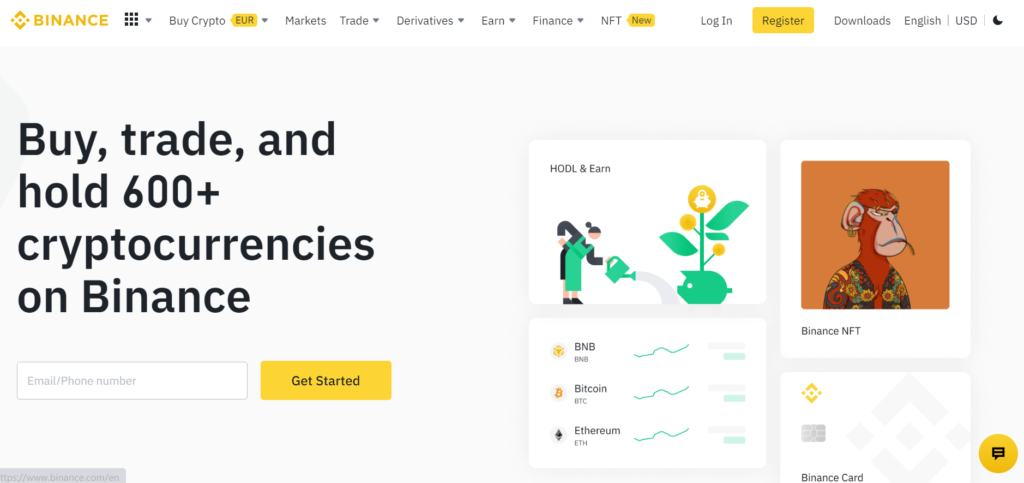 Binance is one of the best crypto trading apps and has been recently established as an NFT marketplace in 2021. Being a large NFT exchange platform, it runs on its own blockchain(BNB), which allows users to trade directly with each other, giving it an advantage over other platforms.
It offers an exchange of typical digital assets found on other platforms like digital arts, gaming items, and collectibles. It charges a very low trading fee of 1%, making it a perfect platform for buying and selling assets.
Another thing about Binance is that you cannot choose what NFT you have to buy, rather it offers mysterious boxes that include some NFTs from a collection at a very low price.
Pros:
Very large marketplace
Has its blockchain.
A wide variety of cryptocurrencies are supported.
Cons:
Prices are denominated in different cryptos.
The parent company was hacked in 2019.
Nifty Gateway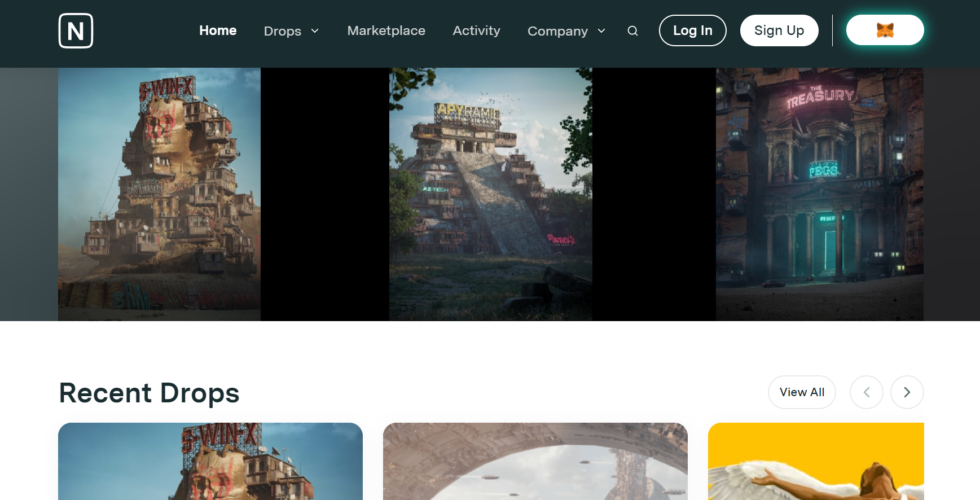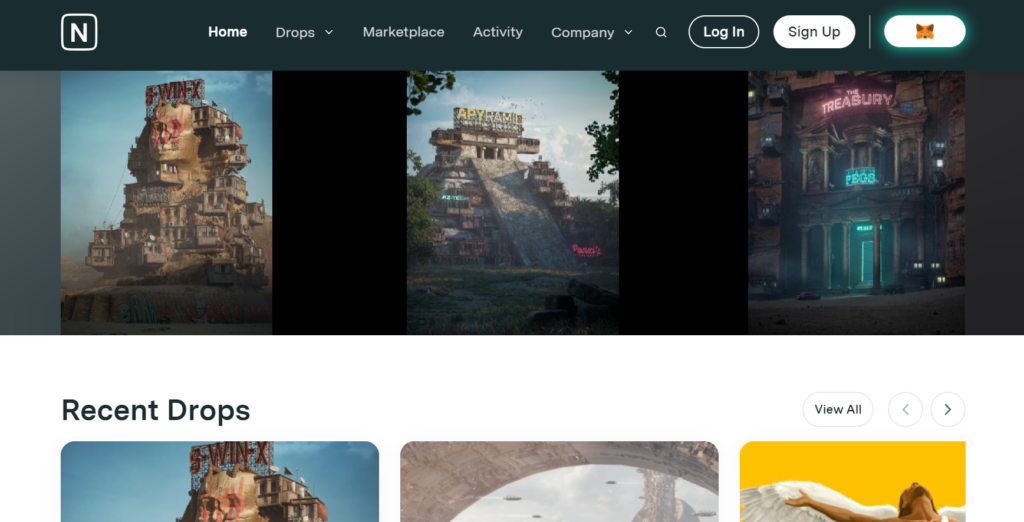 Nifty is a popular high-end marketplace known for hosting exclusive and expensive NFTs. It has solid artworks and digital assets from artists and celebrities like Beeple, Pak, Daniel Arsham, and Grimes.
One unique thing about this platform is that it allows creators to receive a percentage of secondary market sales as royalties. Moreover, Nifty has a feature called "open editions" that allows creators to mint many editions of their NFTs for a limited time, and buyers to buy editions for a limited time.
Nifty gateway uses Ethereum blockchain to host its NFTs, and charges transaction fees up to 5% along with gas fees. It does allow the use of fiat currencies for transactions.
Nifty gateway is a huge platform and offers all the technical assistance for buying and selling NFTs.
Pros:
Aesthetic artworks are created by exclusive artists and are collector's items.
Both crypto and credit card payments are available.
Exclusivity of the NFTs listed.
Cons:
Need to withdraw to a Gemini account.
Prone to hackers, if one doesn't have 2FA Functionality.
SuperRare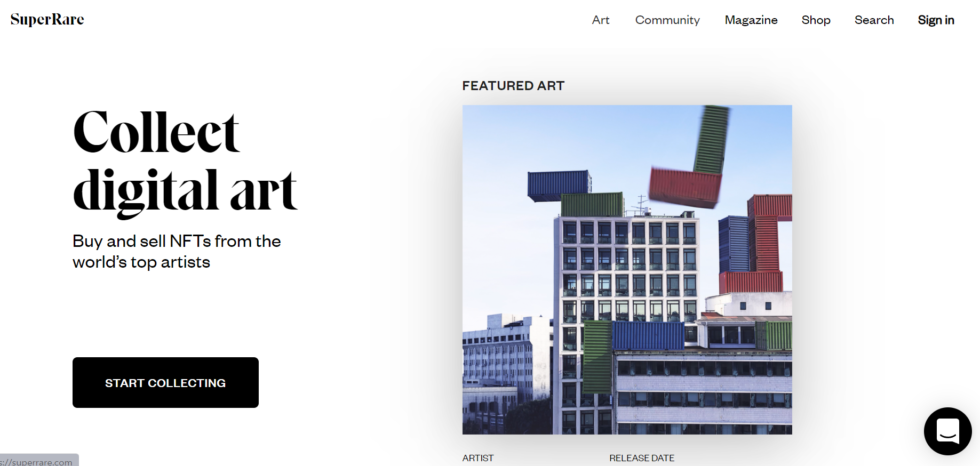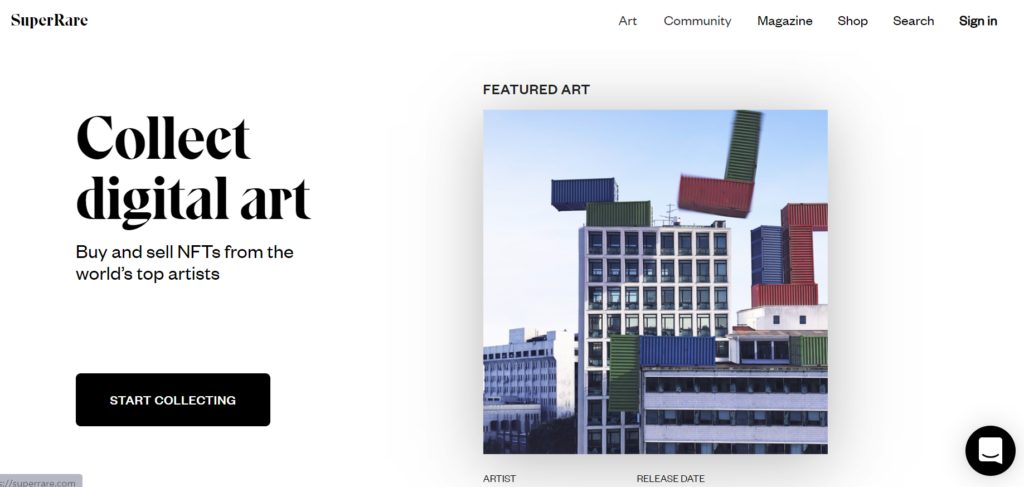 SuperRare is a marketplace that only allows unique high-end NFTs to be sold on its platform. They offer a new way to interact with art, culture, and collecting on the internet. Every artwork created is authentical and tokenized as a crypto collectible item that can be traded. It doesn't accept meme-style NFTs and is very cautious with NFT submissions.
SuperRare charges 15% the first time an NFT is sold. A flat 3% fee is there every time an item is bought. It uses ETH(Ethereum blockchain) currency for its platform.
SuperRare reviews the work of artists before it is available for sale. So you can expect quality work on this platform.
Conclusion
Creators go for marketplaces that offer various options to display their NFTs. Some platforms allow a user to link to a crypto wallet, while others allow paying from fiat currencies using a credit card. Some marketplaces allow buying an NFT directly from a marketplace with no transaction fees, while others deduct transaction charges. Some have unique collector items listed on their platform while others let you create as many NFTs as you want. It depends on the purpose with which you use the marketplace. Make sure you carefully check out the pros and cons of each marketplace before deciding on the one meant for you.

Image by mohamed Hassan from Pixabay

Check out our other articles on Brandshark.