Deepam Silks:

Leading silk saree brand in India.
Project brief: Search engine optimization and performance marketing.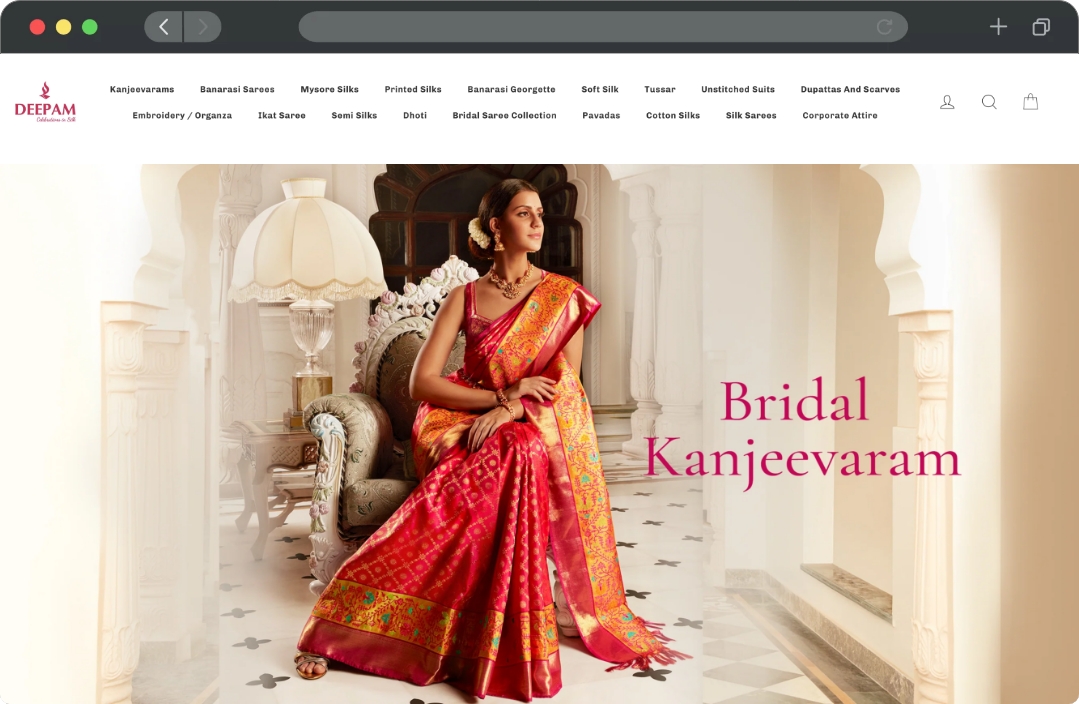 Deepam, known for its exquisite collection of silk sarees, is a leading brand in India. Established in 1972 in Bangalore, Deepam has been successful in making a mark in the traditional Indian wear market. It has become synonymous with grandeur and elegance. The brand is known for its adherence to quality and rich tradition in saree making.
Deepam, being an age-old brand, had established a strong reputation and loyal customer base through its physical retail outlets. However, with the digital revolution and the rise in online shopping, they needed a marketing strategy to help them grow organically as well as with the help of performance marketing.
Search Engine Optimization
Performance marketing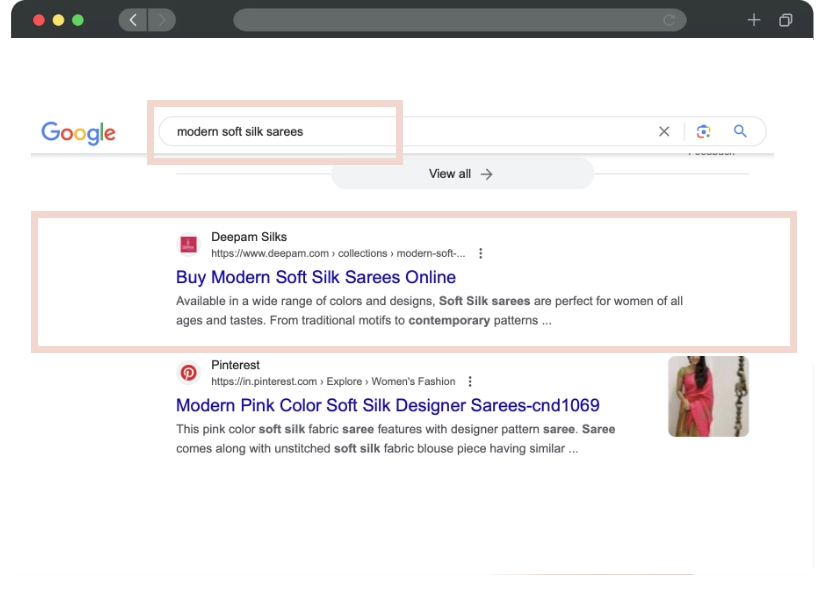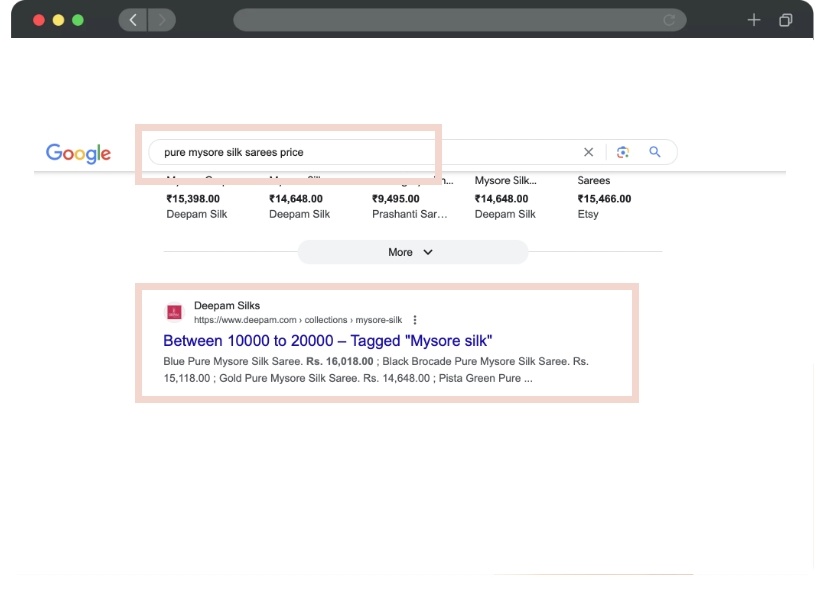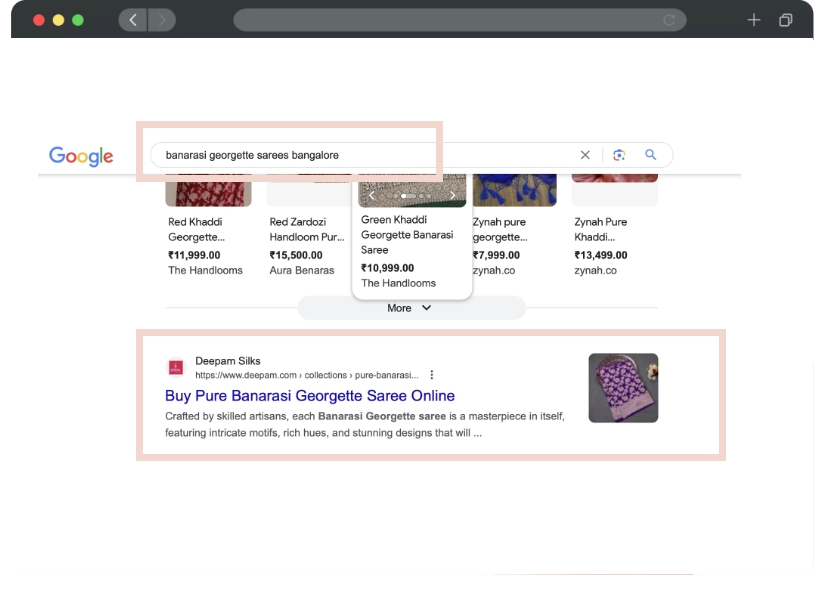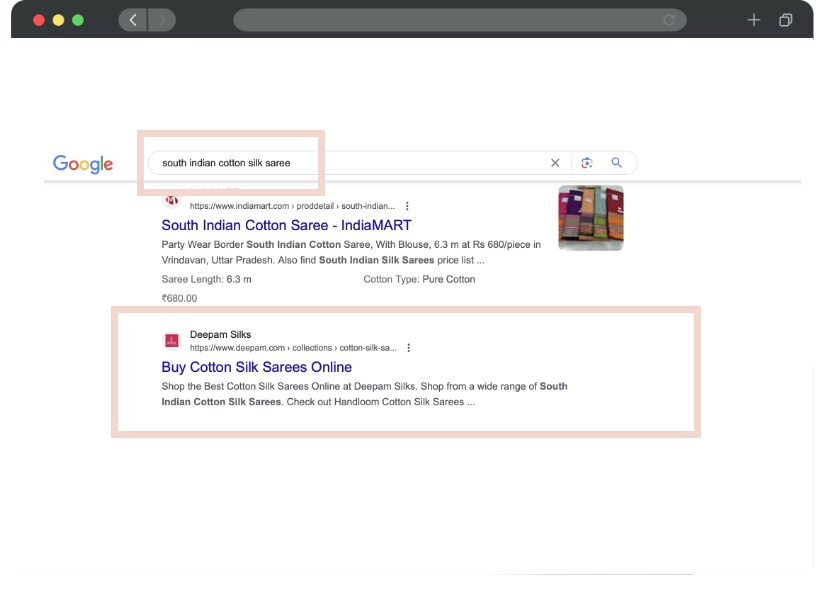 The digital landscape for silk saree brands in India is highly competitive. With numerous brands vying for attention, it can be challenging to stand out and capture the target audience's interest
In the online world, building trust and authenticity is crucial. Many consumers are wary of purchasing silk sarees online due to concerns about quality, genuineness, and reliable sellers
Targeting the Right Audience
In a diverse country like India, with a vast range of cultural preferences and regional variations, identifying and targeting the right audience becomes critical
Precise Audience Targeting
We invested time and resources in conducting thorough market research to understand Deepam's target audience's demographics, preferences, shopping behaviors, and online habits. This data helped us to develop targeted marketing campaigns.
Created Informative Blog Posts
Developed a blog on Deepam's website dedicated to silk saree-related topics. We wrote informative and engaging articles that educate its audience about different types of silk, saree draping styles, caring for silk sarees, and fashion trends. Optimized the blog posts with relevant keywords to improve their visibility in search engine results.
Collaborated with Influencers and Experts
Invited industry influencers, fashion bloggers, or saree experts to contribute guest articles or videos on Deepam's platform. Their expertise and insights enhanced the brand's credibility and provided valuable educational content to its audience. Ensured that the content included relevant keywords and links back to the website, boosting the SEO efforts.

Looking to enhance your business like Deepam?
What our clients say about us

Swarup Chandrashekhar, Speridian
rom the moment I engaged with Brandshark, I was impressed by their level of professionalism, expertise, and dedication to understanding my unique business needs. Their team of SEO and marketing experts took the time to conduct a comprehensive analysis of my website, identifying areas for improvement and formulating a tailored strategy that would maximize my online presence.
Insights

: Illuminating minds, empowering a

smarter

World.
Branding is the art of making your mark, but marketing is the science of leaving a lasting impression. When the two dance together, they create a symphony that resonates with the world.