Skincare businesses have seen a major surge in growth over the past few years. This is largely due to the booming skincare industry, which has been boosted by advancements in technology and an explosion of skincare products on the market. In addition, skincare digital marketing has become an increasingly popular way to promote skincare products.
With skincare digital marketing, it's important to keep a few key elements in mind. From understanding your target audience and their needs, to creating compelling content that resonates with them, skincare digital marketing can be a powerful tool for success. But there are some common mistakes that marketers often make when it comes to skincare digital marketing. To ensure you're getting the most out of your efforts, here are 10 things you should always keep in mind while doing skincare digital marketing. By following these tips, you'll be able to maximize your reach and get the best results from your campaigns.
Knowing your customer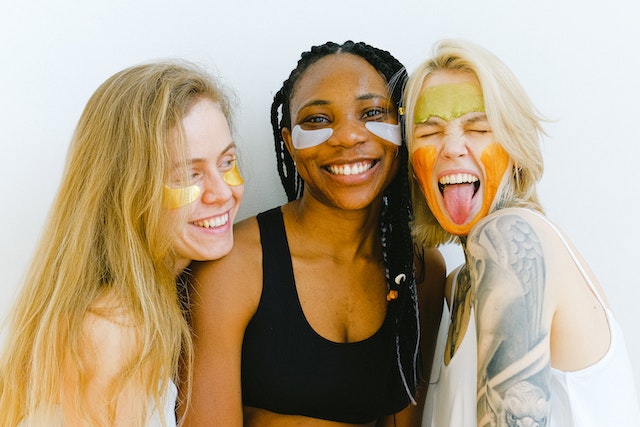 Understanding who your target customers are, their skin concerns, and what type of skincare products they are looking for is key to creating successful skincare digital marketing campaigns. The first step in understanding your target audience is to identify who you're trying to reach. By doing market research, you can find out important information about your target customers, such as their skincare concerns, the type of skincare products they are interested in, and even their favorite skincare brands.
Highlight the benefits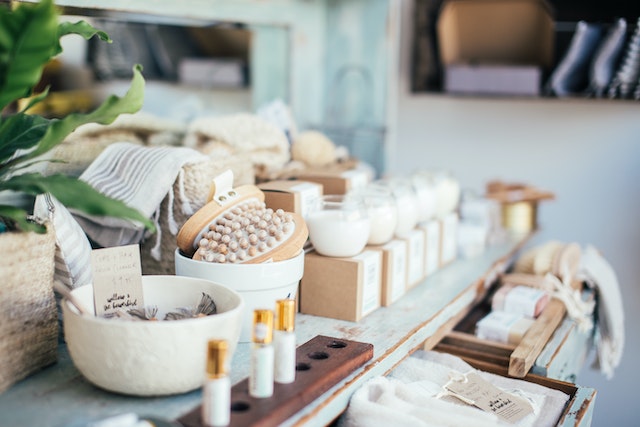 Emphasize the benefits of using your skincare products, such as improved skin health, reduced appearance of wrinkles, and hydration. People are more likely to be interested in skincare products that promise these benefits rather than simply listing the product ingredients. Be sure to make it clear how your skincare products can help them achieve their skincare goals.
Using visually appealing imagery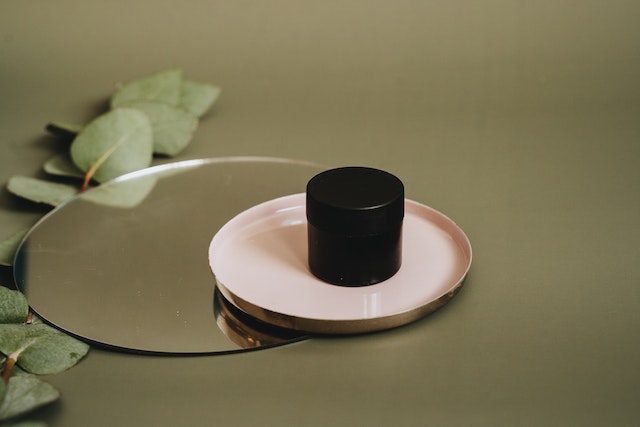 Using visually appealing imagery can make or break skincare digital marketing campaigns. High-quality images and videos are essential for engaging potential customers and showing them the results they can expect from using skincare products. When creating skincare digital marketing visuals, it's important to keep in mind that skincare products should never be presented in a way that is overly glamorous or unrealistic.
Checkout our detailed guide on creative white background photography
Check the sample skincare photography for reference
Use influencer marketing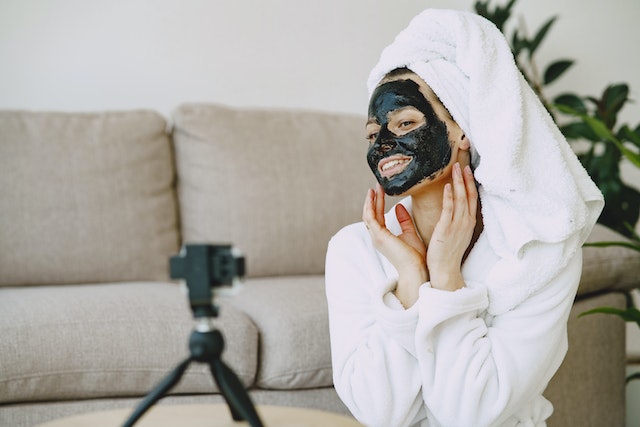 Using influencer marketing is a great way to reach a larger, more engaged skincare and beauty audience. By partnering with skincare and beauty influencers, brands can tap into an engaged community of followers who are eager to learn about skincare products and solutions.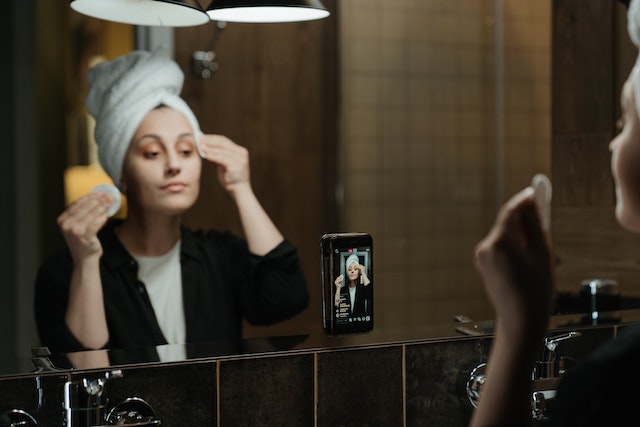 Social media platforms, such as Instagram and TikTok, offer skincare businesses a powerful platform for skincare digital marketing. With millions of active users, skincare businesses can reach an expansive audience and engage with them using creative content and engaging visuals.
Instagram is one of the most popular social media platforms for skincare digital marketing. With its visual-first focus, skincare businesses can use it to create stunning visuals and demonstrate their skincare products in action. From skincare tutorials to product reviews, skincare businesses can leverage Instagram's features to reach potential customers in a creative way.
Offering promotions and discounts
Offering promotions and discounts is an important skincare digital marketing strategy for skincare businesses, as the skincare industry is highly competitive. It's a great way to drive sales and build brand loyalty by incentivizing customers to make purchases.
When offering promotions and discounts, it's important to identify what types of promotions are most effective for skincare digital marketing. For example, skincare businesses can offer free samples of their skincare products for customers to try before making a purchase. This is a great way to introduce potential customers to the brand and its skincare offerings.
Provide educational content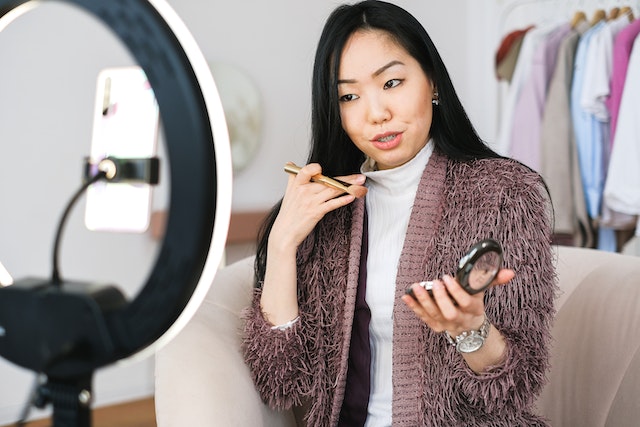 Providing educational content such as blog posts or videos helps customers understand how to use products effectively – a powerful skincare digital marketing tool! Educating customers on skincare topics allows skincare brands to engage with their customers and build trust. You can provide content on makeup tips, which ingredients help in which type of skintype, skincare routines etc.
Focus on customer feedback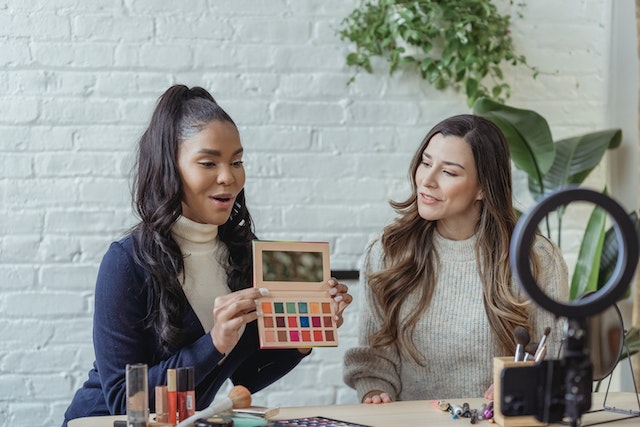 Listening to customer feedback is an important skincare digital marketing strategy. Customers are often the best source of information about skincare products and can provide valuable insight into what works for them and what doesn't. By listening to customer feedback, skincare businesses can refine their skincare digital marketing strategy and ensure they are delivering the best possible skincare experience to their customers.
Search engine optimization
Search engine optimization (SEO) is crucial for skincare digital marketing as it allows skincare businesses to target the right customers and drive more traffic to their website. SEO involves optimizing skincare websites with keywords, meta descriptions, titles, and content that are relevant to skincare products and services. This helps skincare businesses to appear higher in search engine rankings, increasing visibility and making skincare digital marketing more effective.
Check and use these 5 SEO tools for better performance
Measure and adjust
Measuring and adjusting skincare digital marketing efforts is essential for skincare businesses to ensure their campaigns are successful. Regularly reviewing metrics such as website traffic, sales conversions, and user engagement can help skincare businesses identify areas of improvement and make adjustments accordingly. By carefully tracking these metrics, skincare businesses can gain valuable insights.
Here are few important KPIs for digital marketing
Skincare digital marketing is an essential part of skincare businesses today, as it helps to build relationships with customers, drive sales and increase brand loyalty. It's important to utilize a variety of skincare digital marketing strategies in order to maximize success. This includes leveraging social media platforms, providing educational content, offering promotions and discounts, focusing on customer feedback, and optimizing skincare websites for SEO. By utilizing these skincare digital marketing strategies, skincare businesses can reach their target customers more effectively and foster strong relationships with them.
Brandshark is a leading creative digital marketing agency based in the United States that specializes in helping businesses launch their e-commerce ventures and build their brand. With a team of experienced professionals, the company offers comprehensive skincare digital marketing solutions to skincare brands. From launching ecommerce store, to product photography, branding to digital marketing we can handle all.